Creating a Transferable BusinessTM
You have discovered your transfer options, you know any gaps you need to fill and you know your time frame. Now it is time to begin executing your plan by assembling your team, incentivizing your management team, planning for contingencies, and taking action. But this could take a number of years to achieve.


Click to Enlarge
Key areas we will focus on
Here are four additional areas we will help you focus on that can increase your company value when the time is right to transfer your company.
Owner Dependency
Your level of involvement in your company is a major area that needs to be measured and reviewed. Our Owner Dependency IndexTM process will help you do that. The primary issue should be obvious - if your company cannot run effectively without you, any buyer of your business cannot simply take over the company without your active involvement. Secondly, when owner dependency is high, the risk associated with the business is higher and the overall value (including how and when an owner would get paid for the business transfer) tends to be lower.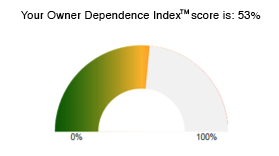 Management Team
Who supports you in running the company? A Transferable BusinessTM is one that has people in positions that another owner would be excited to pay to keep in that position. It is also one that has the right people in the right places and incentive plans in place to keep them there.
Also, if you are doing an internal transfer to management and/or family, where do they rank and can they perform in the process of moving from Management to Leadership to Ownership?
Industry Activity AssessmentTM
Most owners want to know how other businesses in their industry change hands. Some consider this the most important aspect of a future transition, i.e. knowing who is available as a future owner as well as what pricing and terms are typically used in transactions for like companies. Our Industry Activity AssessmentTM answers these questions for you by providing comparable transactions, including pricing and terms. The Industry Activity AssessmentTM further helps you determine what future owners want to see in a company that they buy, empowering you to create a Transferable BusinessTM.
Company Performance Assessment
Most owners want to know how their business compares to others. What are the Value Drivers that impact the value of their company? Knowing who might own your business in the future will assist you in focusing on the items that will help make your business transferrable. For example, to have a Transferable BusinessTM should you:
Increase or reduce headcount?
Increase or reduce product lines?
Increase or reduce geographical expansion?
Creating a Transferable BusinessTM is not done over night, but years before the transfer occurs.